Casio sets the standard with the new Mid-Size MRG.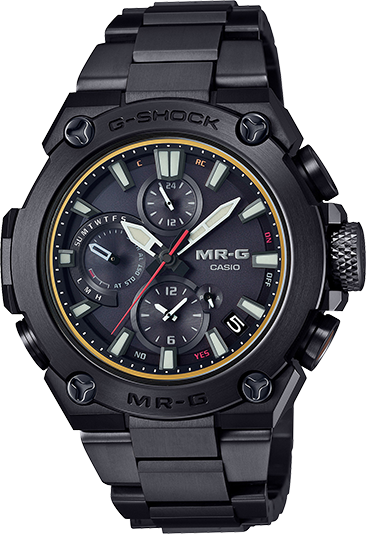 Designed and manufactured only in Casio's high end Yamagata Factory under the theme "Simplicity & Intelligence this new MRG's  Basic black coloring is done in the image of the shaded gradations of black ink wash paintings.  The Dial Casio states is Simplistic and Minimal, but there is noting simple about the pure elegance for such a tough watch. 
 (Casio Yamagata Factory)
Featuring a smaller and slimmer case design, this Bluetooth connected MRGB1000B-1A boasts a resilient yet lightweight titanium case and band with a diamond-like carbon coating, as well as a non-reflective sapphire crystal. The Mid-Size is also fitted with G-SHOCK MR-G Connected App for smartphone users to easily set world time and monitor the watch's key functions, such as self-adjustment, solar charging, and access a 5-year digital warranty.  No other brand of Smartwatch offers this type of service.  
Only a small handful of authorized retailers will see this limited piece, and AZ Fine Time is extremely proud to offer this model at the Mid-sized price tag of $2600.00.  Call 1-800-486-3996 to order or click here to find out more about MRG, and Casio At AZ Fine Time.